Announcement of Cear pavé 2nd Generation
In September 2023, Cear, Inc. will announce a new Bluetooth speaker, "Cear pavé," incorporating Qualcomm's latest SoC, the Qualcomm® S5 Gen 2 Sound Platform, and Snapdragon Sound™ technology.​
Video message from Mike Canevaro, Director of Sound, Qualcomm Snapdragon, on the announcement of Cea Pave
OUR MISSION
Cear envisions harnessing the power of sound and cutting-edge technology to create new values and experiences that evoke empathy and emotion. Utilizing our unique acoustic technology, we aim to reestablish the importance of sound, ranging from entertainment to mutual understanding between humans and computers, realizing a richer and more enjoyable world.
Our ultimate goal is contributing to a sustainable future through the medium of sound.​
Cear,Inc. CEO: Yoshitaka Murayama
COMPANY OVERVIEW
/ HISTORY
Company name

Cear,Inc.
location

Takei Bldg. 5F /6F, 2-19-6 Taito, Taito-ku, Tokyo 110-0016 JAPAN
CEO

Yoshitaka Murayama
Funded

November 1st, 2018
E-Mail
Nov.2011

Sound Division for developing sound technologies and Tokyo Sales office in Kyoei Engineering Co., Ltd. were setup in Taito-ku, Tokyo

Apr.2012

Established "Cear" (Clear, Clean, Creative technologies for the ear) as Kyoei Engineering Sound Division technology brand

Jan.2015

Received Innovation Award for Cear's first original product "DOMINO 2MIC" from 2015 International CES

Sep.2016

Stared sales of "DOMINO 2MIC"

Oct.2016

Cear's Bluetooth Speaker "pave" was introduced by crowdfunding site "machi-ya" and supported by nearly 400%

May.2017

Started sales of "pave"

Nov.2018

Funded "Cear, Inc. in Taito-ku, Tokyo

Apr.2019

Participated to Qualcomm Extension Program Network

Nov.2021

Our company's business innovation plan got authorization by Tokyo

Apr.2022

Participated to WEAP(Wearables Ecosystem Accelerator Program)
As a member of Qualcomm® Voice & Music Extension Program
We offer the only Snapdragon Sound technical support service in Japan.
Implemented development environment :
• DB-QCC5181-WLCSP99-A-0
• DB-QCC3086-WLCSP990A-0
• DK-QCC5171-WLCSP99-A-0
• DK-QCC5151-EARBUDRD-A-0
• DB-QCC5144-VFBGA90-A-0
• DB-QCC5141-WLCSP94-A-0
• DK-QCC5141-EARBUDRD-A-0
• DK-TRBI200-CE684-1
• DB-QCC3056-WLCSP94-A-0
Reproduction with an amazingly realistic feeling that can be achieved by spatial control and sound separation technologies

Reproduces the best front-end sound pickup according to the number and shape of microphones

We develop and provide new concept acoustic products
name
model
manufacturer
Head & Torso Simulator
45BC-16
G.R.A.S
Hi-Res Ear Simulator
RA0404
G.R.A.S
Ear Simulator
RA0402
G.R.A.S
Audio Analyzer
APx525
Audio Precision
Audio Analyzer
Bluetooth Option
APX-BT-WB
Audio Precision
Audio Analyzer
SW Option
APX-SQ-POLQA
Audio Precision
Mouth Simulator
Type 4227-A
Brüel & Kjær
Spectrum Analyzer
MS2691A
ANRITSU
USB Power Sensor
MA24106A
ANRITSU
Soundproof Box
Small Soundproof Box TYPE-2
Sonora Technology
USB Protocol Analyzer
TP320510
Total Phase
Directivity control method and device
• JP5140785(JPN)
• 9,648,435(US)
• 2940686(UK,FRA,DEU)
• ZL201380068560.4(CHN)
Sound-source separation method, apparatus, and program
• JP6226885(JPN)
• 9,648,435(US)
• 2940686(UK,FRA,DEU)
• ZL201380068560.4(CHN)
Sound processing device, Sound processing method and sound processing program
• JP6161706(JPN)
• 20,160,286,331(US)
• ZL201380079120.9(CHN)
In addition, there are multiple Patents pending and jointly filed. Registered several trademarks and designs.
Sound Software Development

Develop software that can satisfy your needs utilizing own patented technologies and implement a total solution

Licensing sound Technologies

License our patented technologies ( Cear Field & Cear Microphone )

Design, Develop and Manufacture Sound Hardware

Planning, Development and
Sales of original products

Spatial Acoustic Environment Measurements/Analysis Consulting Spatial Acoustic Design Optimization

Cear Acoustic Measurement System (C.A.M.S)
・Installed the anechoic room for measurement the high-resolution audio in the office
・Implemented the head and torso simulators (HATS) "GRAS 45BC-16 KEMAR"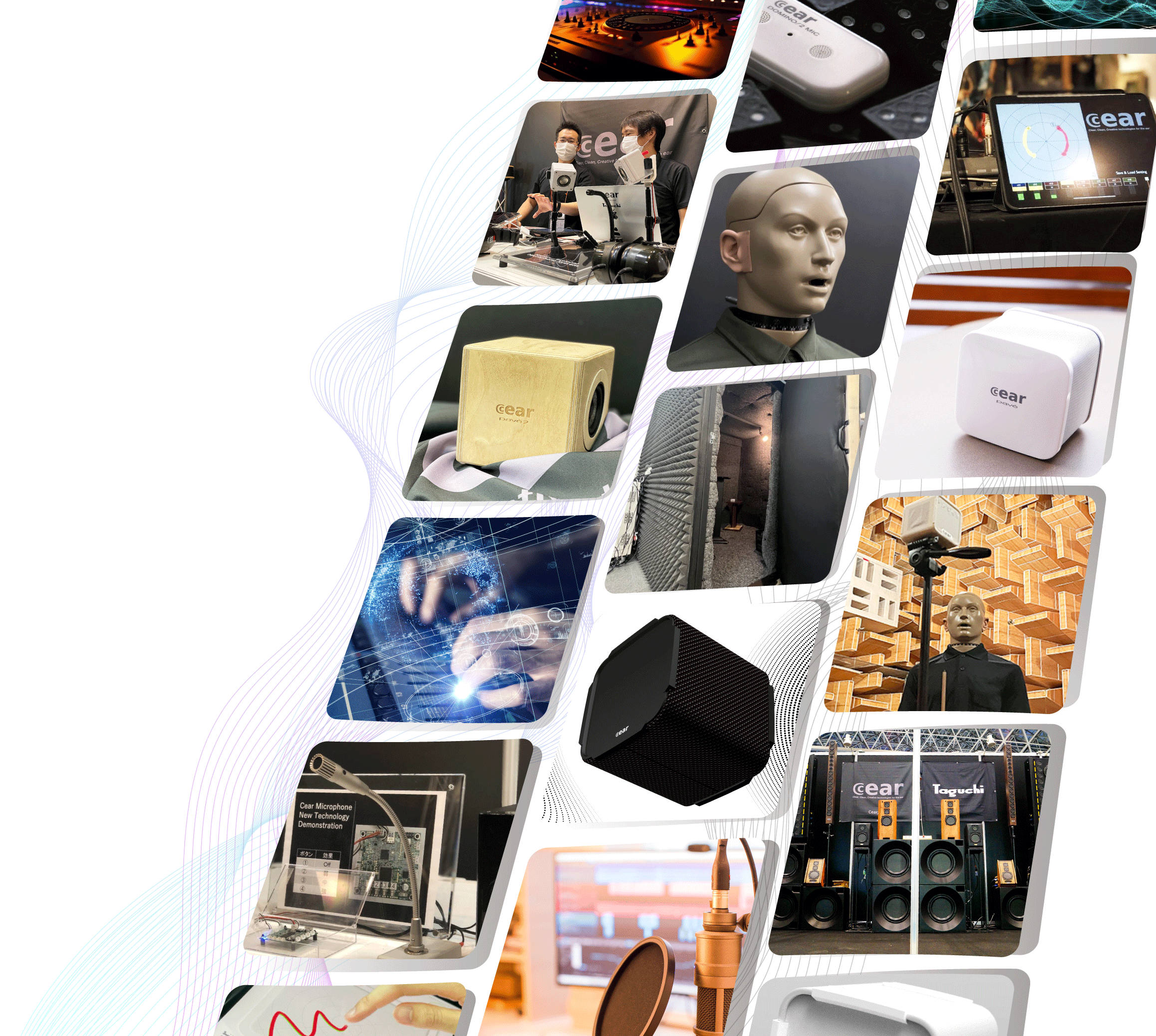 Speaker with Cear Field
You can hear sounds beyond the visible world.
The usual sound becomes 3D surround from the palm of your hand. The world's first portable speaker with Snapdragon Sound™ sound
Until now, speaker listening required people to move to the sweet spot because the position of the speaker was fixed. To address this challenge, we have developed Cear pavé, a palm-sized, cube-shaped speaker that allows you to easily bring the sweet spot near you. Cear pavé, powered by our proprietary sound field control algorithm called Cear Field*, provides an overwhelmingly expansive three-dimensional sound field that goes far beyond the visible world in front of you.
*Cear Field consists of two main technologies:
1.Real-time analysis of audio signals, focusing on factors like phase differences and amplitude variations between the left and right channels to separate and construct sound sources in a clear form.
2.Crosstalk cancellation technology, which properly repositions the front and left-right channels.
The frequency characteristics of speakers change just by shifting their placement.
Therefore, when you spread the sound from the front-facing speaker to the left and right, the sound quality changes significantly, causing blurriness or distortion of sound. Cear Field technology effectively corrects this.
Drawing Sounds0
Intuitive application that draws and manipulates sounds freely
Cear pavé
A new type of listening Bluetooth speaker that allows you to feel the sound of the space
DOMINO/2MIC
Lightning Stereo Microphone with microphone functions that change with the recording scene
Company name : Cear,Inc.
location : Takei Building 5th floor(reception) & 6th floor(development), 2-19-6, Taito, Taito-ku, Tokyo, 110-0016 Japan
TEL:03-6240-1573
FAX:03-6240-1705
Akihabara Station on the JR Sobu Line 15 minutes on foot
Shin-Okachimachi Station on the Subway Oedo Line 10 minutes on foot